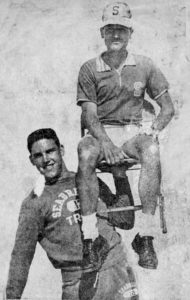 That's my "buddy," Roger, supporting his track and field coach, Jimmy Simmons. He and I played high school football together. He was my best man at my wedding, and he helped direct me to Jesus Christ. Roger was an extremely talented athlete, who possessed an almost inhuman natural strength, as some of the anecdotes highlight in my book, Dancing in the Shadows . My painting, Above the Bar, was modified from an old Daytona Beach News-Journal photograph taken in 1961 (sans the goal posts and the whistle).
The photographer asked coach Simmons if he thought Roger could possibly lift him off the ground and hold that position long enough to snap a photo. Coach Simmons didn't brother asking Roger if he thought he had enough strength to execute the photographer's request–he just commanded Roger to bring him aloft. After finishing the rest of that roll of film, the photographer suggested to coach to have Roger set him down while he reloaded. Coach Simmons said, "No need to lower me for that." After that reloading pause, Roger continued his one-armed coaching pedestal to the conclusion of a second roll of film. The strength of Samson with a crew cut.
The standard shot put exercise is to place a shot putter about 25 feet from the horizontal crossbar of a football goalpost. Using a 12 pound high school shot (Simmons required Roger to use a 16 pound college shot), the putter was to blast the cannonball like shot over the crossbar from that specified distanced away. Now, I can tell you with great certainty, that even through Coach Simmons weighs only about 160 pounds soaking wet, he is without a doubt exponentially heavier that a 16 pound shot. Yet, if coach were to have commanded Roger to heave him over the crossbar–chair and all–I wouldn't bet against it–would you?
I believe the photograph should have gone viral–excuse me–on the national news circuit. Roger attended Abilene Texas Christian College on a track scholarship and could have made the 1964 Olympics team if it weren't for the likes of two Americans named Dallas Long and James Matson, who together, ended up taking the gold and the silver respectively in the shot put event.